We've been Cambridge's
trusted towing company

for over 30 years!
DEPEND ON S&V DELTA TOWING PROFESSIONAL - EXPERIENCED - RELIABLE
PROFESSIONAL - EXPERIENCED - RELIABLE
We've been Cambridge's trusted towing company for over 30 years!
When motorists, local businesses, and fleet management companies are looking for a Cambridge towing company they can trust, they reach out to the team at S&V Delta Towing and Recovery.
We provide our dispatchers with on-going customer service and customer support training. This training focuses on communication, problem solving, and comprehension. Not only do our towing operators get trained on the customer service side of the business, they also receive in-depth training about every truck in our fleet. By knowing what our truck's capabilities are, they can ensure that the right team, with the right equipment, is sent to your location.
With over thirty years of experience under our belts, we've become expert problem solvers. No job is too complicated for the team at S&V Delta Towing and Recovery. Regardless of what service you may need, we'll make sure to get it done right the first time!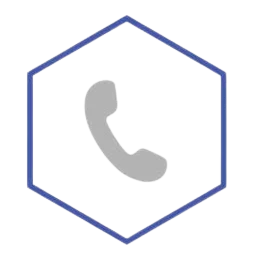 To learn more about our 24/7 Towing Service and to speak to a member of our team, call us at
S&V Towing and Recovery is a division of Abrams Towing
As a division of Canada's largest towing company, we have access to over 200 specialized vehicles! Whether you need a 75-ton rotator or a flatbed tow truck, we've got the trucks to get the job done right safely and efficiently. Our personal fleet includes rotators, wreckers, flatbeds, landolls, and more!
Call our state-of-the-art dispatch and communications centre. We will ensure you receive timely service with the right equipment where and when you need us.
We provide 24 hour towing, roadside assistance, and recovery services
All it takes is a short call to our in-house dispatch center to get the help that you need.
Light duty towing
Medium duty towing
Heavy duty towing
Heavy equipment hauling
Cargo services
Load shift correction
Load transfers
Load swaps
Heavy duty recovery
Accident recovery
Winch-outs
Roadside assistance
Vehicle lockouts
Fuel delivery
Jumpstarts
Flat tire service
And more!
We pride ourselves on our accurate ETAs. If we tell you we'll be there at a certain time, we will be there! We've been serving the Cambridge community for over thirty years. Our dispatchers know our service area like the back of their hand. Our tow truck operators are your neighbors. Call us today for quality local towing from the team at S&V Delta Towing and Recovery!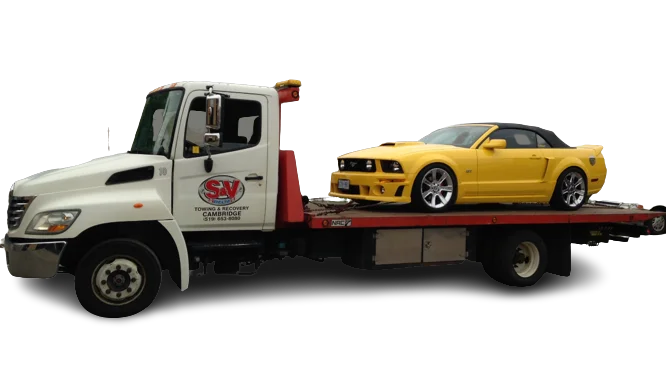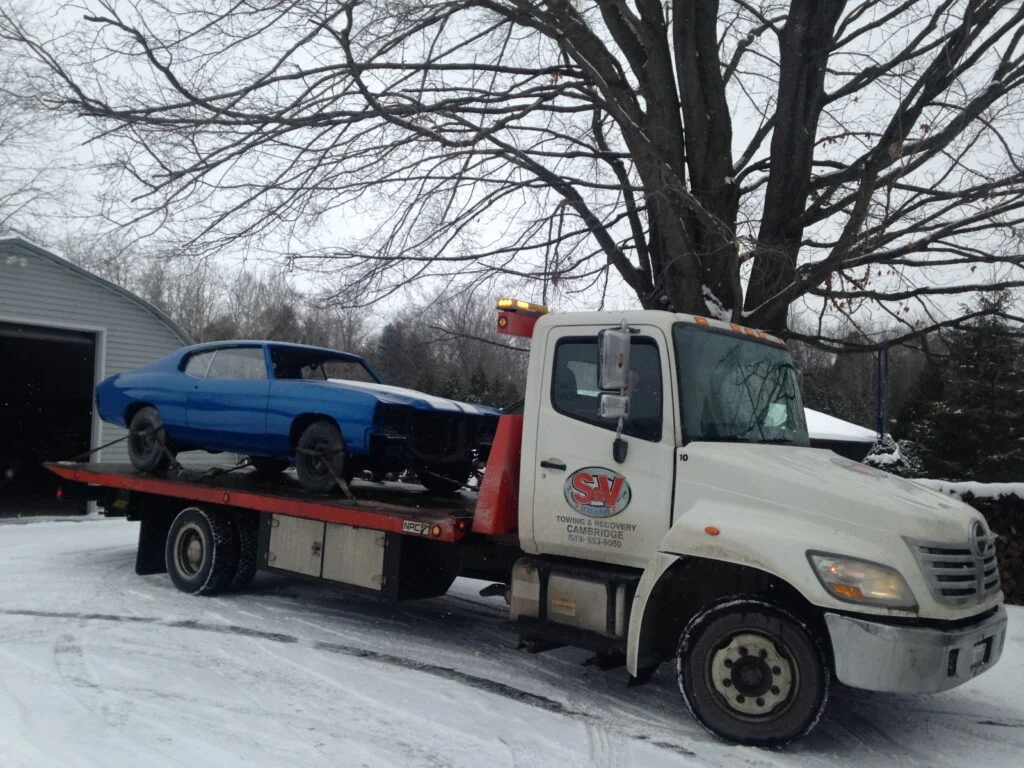 Tow Truck Driver Training
We take safety seriously. That means your safety, our team's safety, and the safety of your vehicles, cargo, and heavy equipment.
Each and every one of our tow truck operators completes training in Abrams' 20,000 square foot Tow Truck Operator Training Centre. Our training center provides hands-on training for drivers and dispatchers. The program includes classes and skill testing in both indoor and outdoor settings. It also offers first aid training, safety training and customer service training.
You can rest assured that your towing team is professionally certified, has undergone continuing education courses, and is up to date with the latest safety standards. S&V Delta Towing and Recovery follows all provincial and federal regulations to ensure a smoothing towing and recovery process.